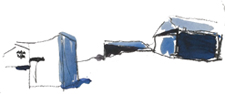 Shrine of Remembrance
In 2005 Barrett created especially for the Shrine of Remembrance in Melbourne an installation titled "EVERYMAN", based on the moving First World War poems of Wilfred Owen and Siegfried Sassoon. The work was created "site specific" for the Hall of Columns at the Shrine and is comprised of six calico banners four metres in height and twenty banners one and a half metres in height.
Following the original showing, Barrett donated EVERYMAN to the Shrine of Remembrance . It is now on periodic display.